By the 1950s, the tote bag was used among many businesses for a variety of chores.  Then popular designers got into the picture, and more elegant tote bags were introduced.  New bags were made, not only in canvas, but in such materials as leather, exotic fabrics, or even recycled polypropylene plastic.
Because of its spaciousness, it can often take the place of a woman's purse.  Some totes are made with interior pockets, making them more versatile.  Because of the many potential uses, these bags make a very practical gift.
The remarkable collection of artists who sell through the Bradford Exchange Online offer many original creations there, and the three artists who designed the tote bags shown in this post are among them.
AMERICAN ARTIST CHARLES WYSOCKI
Two of the bags featured here were designed by Charles M. Wysocki, Jr., a painter whose specialty was a stylized version of American life in an earlier era.
Charles Wysocki was born in 1928 and died in 2002.  Charles wanted to be an artist from the time he was a small child.  The G.I. bill saw him through the Art Center in Los Angeles, where he majored in design and advertising illustration.  After school, he joined the staff of freelance artists at McNamara Brothers in Detroit.
In 1959, he moved to Los Angeles, where he met his wife, Elizabeth, who also had an art degree.  It was love at first sight.  The couple had three children:  David, Millicent, and Matthew.
In the early 60s, Charles started working on Americana/primitive paintings.  Then, from 1979 to 1993, he sold numerous prints through "The Greenwich Workshop."  He also found time to write two books.
Charles made many personal appearances and won awards all over the United States.  He was proudest of winning the medal of honor from the Daughters of the American Revolution, the society's highest honor.  He painted all his life, up to his death at age 73.
This first Charles Wysocki bag fits very well into our "Literate Cat" theme, as it shows cats curled up among shelves of books.  In fact, the three cats on the bag have names:  Frederick the Literate, Remington the Well-Read, and Max in the Stacks.
This bag is called the
Charles Wysocki Classic Cat Tails Women's Tote Bag
tote bag.  The printed poly twill
 fabric is enhanced by faux leather trim in a rich brown color.  The hardware is gold-toned.  The bag has two handles and large outer pockets.  There is a top zipper closure.  Inside is a small zip pocket and two slip pockets.  This Bradford product has a 90-day money-back guarantee.

Price: $99.95, or three installments of $33.32
Size:  18" W x 11" H with a 9" drop.
GERMAN ARTIST JURGEN SCHOLZ
Our next artist, Jurgen Scholz, was born in 1948 in Magdeburg, Germany.  Scholz, now an award-winning artist, has been interested in drawing animals since childhood.  He has been a free-lance artist since 1979.
Scholz first drew animal illustrations, detailed from nature.  He began to develop his own style.  He built on his background as an illustrator, adding naturalistic elements and great detail to his work.  These qualities were tempered with his own sense of humor.
The bag designed by Jurgen Scholz is called
Jurgen Scholz Smitten With Kittens Women's Cat-Themed Shoulder Tote Bag
"  The bag is blue, with a design of kittens playing with yarn.  It has dual handles and has a heart charm with a rhinestone paw hanging from one handle.
This tote has a top zipper closure, two large exterior side pockets, one inside pocket and two inside slip pockets.  The design of cuddly kittens is repeated on the front and the sides.  As with the other Bradford Exchange items, it has a 90-day money-back guarantee.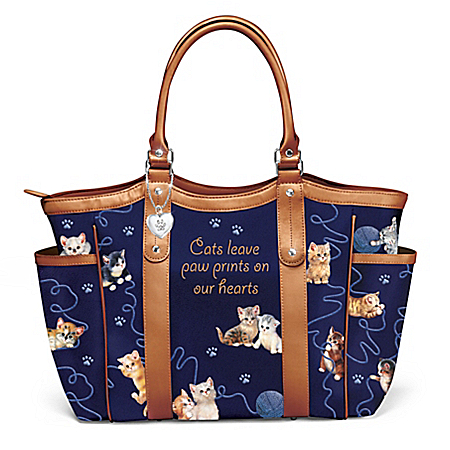 Price:  $99.95, or three installments of $33.32
Size:  18″ wide x 11″ high with a 9″ drop
FANTASY ARTIST CYNTHIA SCHMIDT
The third artist featured in this post is Cynthia Schmidt.  Cynthia is a self-taught artist.  She says she sometimes enjoys not knowing the "rules" of art because of the freedom it allows.  Ms. Schmidt says, "I remind myself that there is no 'right way' in art – Isn't that great?"
Ms. Schmidt started painting in 1994.  She has recently settled into creating fantasy, and her artistic style has gone through a rapid evolution.
Cynthia Schmidt lives in central New York state, near Lake Ontario.
This tote bag is called
Cranky Cats Quilted Tote Bag
  It is a softly-quilted poly twill with a zippered closure at the top.  The bag features inner pockets and a separate matching cosmetic bag.  As always, Bradford covers this product with their 90-day money-back guarantee.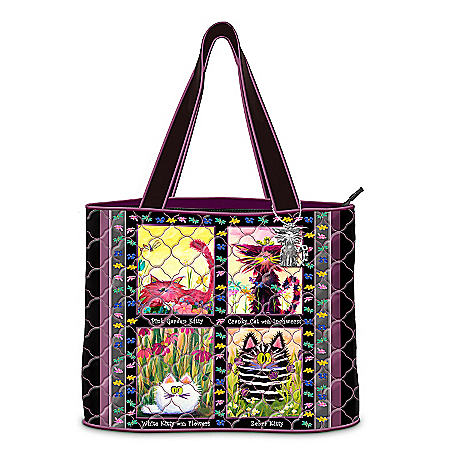 Price:  $69.95, or three monthly installments of $23.32.
Size:  14" W x 11" H with a nine-inch drop
ANOTHER CHARLES WYSOCKI BAG
Charles Wysocki is featured again in this last bag.  It is called
Charles Wysocki Worth The Read Bucket-Style Handbag
"  The cat pictured is Remington the Well-Read.
This is a bucket-styled handbag that is almost a tote.  Trim is faux leather.  The bag has a roomy interior, with a drawstring closure, plus snaps.  It features twin handles and has an adjustable and detachable shoulder strap.  There is a zippered pocket on the back.  It comes with a 90-day money-back guarantee.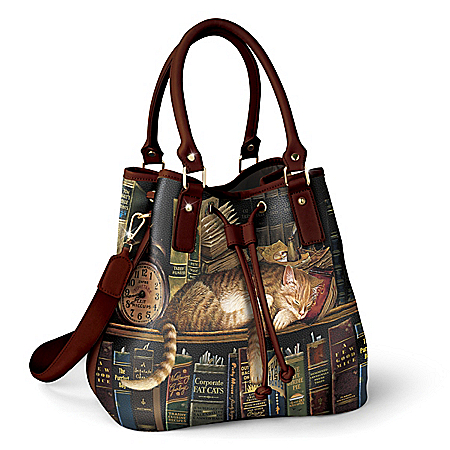 Price:  $99.95, or three monthly installments of 33.32
Size:  10 1/2″ W at bottom, 11 1/2″ H, with a 6 1/2″ drop
I would love to receive your comments on this collection.  Let me know what you think:  Would you like to see some similar bags from other artists?  Your suggestions are welcomed.